No credit card required
Trusted by
95,000+
businesses
Each month
Active users

588K+
Total hours tracked

21M+
Tasks completed

4M+
Payments

348K+
"We operate from Hubstaff, which is specifically designed for remote activity. If we didn't use Hubstaff, we'd probably have to get six more people in payroll and ten more people in client services. We really might not even be able to do business if we didn't have this."
Jeremy Aspen
CFO at Anequim
"We believe — just like Hubstaff — that talent is everywhere and people should be able to work any time, anywhere, even in their pajamas," says Kothari. "As a company, we believe in the same future of work as Hubstaff, which is great because our values align."
Amit Kothari
Co-founder at Tallyfy
4.58 out of 5 stars from 1,045 reviews

4.6 out of 5 stars from 1,045 reviews

4.4 out of 5 stars from 319 reviews
See Hubstaff In Action
See how our all-in-one workforce management tool can help you manage time, productivity, payroll, and more
Sign up today
3 ways hubstaff helps you
Run a more profitable business
Instantly improve productivity
It's simple psychology. When your team tracks time with Hubstaff, everyone is more aware of how they're spending each minute of their day. This improves focus and keeps your team on task.
---
One-minute setup
There's zero learning curve, so your team can start tracking right away.
Over 30 integrations
Connect Hubstaff to your favorite business apps.
Automate team management
Hubstaff tackles time-draining admin work for you. Balance workloads, reduce burnout, and maximize profits with real-time workforce management features.
---
Set work limits
Set weekly hours limits and get notifications when team members' hours are approaching.
Time Off
Customize shifts, policies for PTO, holidays, and more with Hubstaff's Time Off feature.
Find and fix money leaks
Is a project or client draining your profit margin? Hubstaff will let you know. It gives you reports on where your company's billable hours are going and how that impacts revenue.
---
Know what to prioritize
Reports show you which projects are most profitable and which ones drain your team's time.
Control expenses
Track expenses and set weekly budgets or time limits for teams. Get alerts when projects go over.
Enterprise ready
Scalable, secure setup and distribution for larger teams.
Custom roles and permissions

Concierge setup

Advanced reporting
GDPR & HIPAA

SOC 2 Type II

Single sign-on

MSI installer
Background timer

On-premise/self-hosted

Account provisioning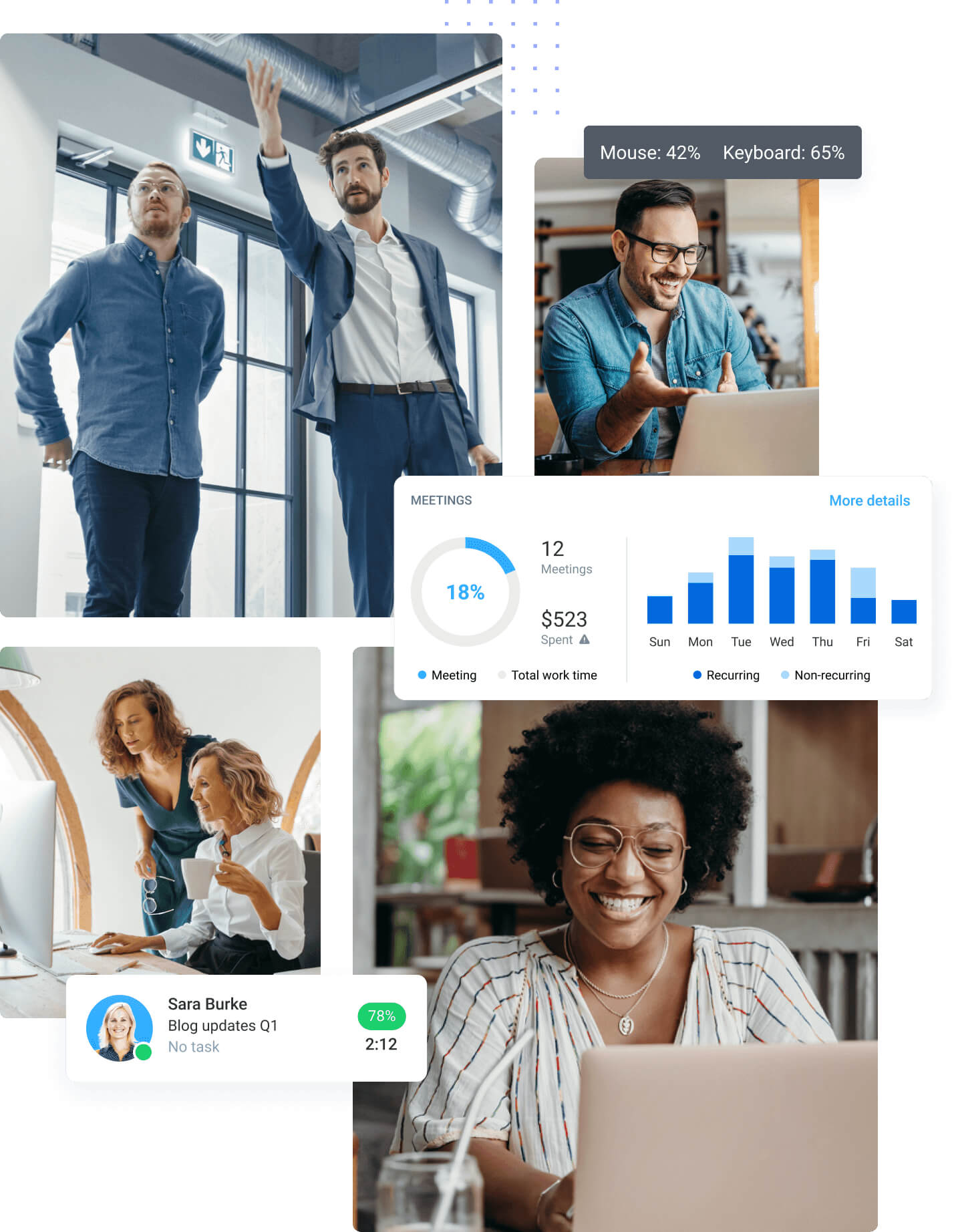 Industries
Desk work or field work, we've got you covered
Businesses in more than 100 different industries track time with Hubstaff.
Customer stories
Over 95,000 businesses have increased productivity and profit with Hubstaff
We believe — just like Hubstaff — that talent is everywhere and people should be able to work any time, anywhere, even in their pajamas. As a company, we believe in the same future of work as Hubstaff, which is great because our values align.

Knowing how long workers are taking to move from one job to another or exactly where your workers are at all times is vital in construction.

Hubstaff solved our pain point the moment we started using it. Compared to other tools we'd tested, Hubstaff is simple, easy, and synchronizes with the other applications we use.

Once we implemented Hubstaff I was amazed to see that some of the projects I thought were going to be profitable, we were blowing through hours that I wasn't aware of.